Sidewalk Rating:

Peak Winter Goodness
Winter Bike Delivery



This morning was daunting riding to work,
Old man winter was totally a jerk.
But my duty calls and I'd never forsake thee
Though our journey today might just well break me.

We started our relationship so long ago
Me on my bike, and you in tow.
10, 20, 30 miles at a time,
Our outings are grueling, but mostly sublime.

Snow-crusted beard and the roaster is hot,
Stereos hummin' and I'm pullin' a shot.
Invoices in hand call for 400 pounds
It's damn near arctic, snow and ice covered ground.

The Greenway to River Rd. then snake-it up Otis.
To Summit and Dale, ALL HILLS and YOU KNOW THIS!
Yet I see how important and crucial it is,
That you get to those near-empty gravity bins.

French Roast is on sale and it flies off the shelves,
We do quicker production than the Keebler elves.
The trailer creaks and my frame is stressed,
That twelve-below chill pierces my chest.

Some people say that I'm crazy to do this,
But the sacred beans are what light my fuses.
I summon the tenacious mind of the turtle
And think of the farmers in fields so fertile.

The dark little bean gets respect from me,
It has sparked revolutions throughout history.
To deliver by bike says more than "we're green"
It's a two-wheeled rebellion against the machine.


*** ***
[Click on images for links.]
*** ***
*** ***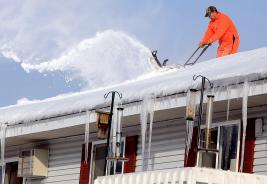 *** ***
*** ***
*** ***
*** ***
*** ***
*** ***
A 23-year-old Massachusetts man named Low Powers (yes, Low Powers) recently found a way to move hundreds of pounds of snow. He was blowing up snow banks, according to police.