[Gazing into the Holi-Abyss.]
If you ever wanted to see a bunch of volunteers trudge slowly down a cold winter street wearing light-up costumes resembling various childhood tropes, tonight and tomorrow are your last chance. The Holidazzle parade is quietly holi-fizzling away this year with surprisingly little fanfare.
I went with a group of intrepid urbanists last week to see the
penultimate Holidazzle weekend
. We wandered through the skyways on our way there, and with
notable booster R.T. Rybak
at the head of the parade, it was not a disappointment.
[Remember these?]
The story of the Holidazzle is a neat combination of the mundane, the fantastic, and the technological. Basically, downtown retail interests started to get really concerned back in the early 1990s when the Mall of America was being constructed. Those responsible for the downtown department stores and the retail district along Nicollet got rightfully worried that the impending Megamall was going to seduce all the holiday shopping traffic with its titanic enormity, three levels of Victoria's Secret stores, and large Snoopy statue. (In retrospect, they were right.) There was much wringing of hands and biting of nails.
Meanwhile, the last of the major department stores was still called Dayton's, and they had long trumpeted a rotating holiday-themed display spectacular on their 8th Floor. I remember going there as a kid to see Santa Bears, and various holiday display adventures. Back then, window displays were still a big deal. Downtown retail really invested a lot of time and energy into doing things like this. It was another era...
And that's when Holidazzle was born. I chatted the other day with Michael Murnane, who founded and ran the parade for many years. As he told it, it was during one of these brainstorming hand-wringing sessions that some of the Dayton's 8th Floor designers pitched a new parade for downtown that would draw people to the retail district during the Holiday shopping season. It would be a parade themed around various childhood stories and fantasies, and the main attraction would be that the whole parade would be made out of lights.
At first there was some skepticism, particularly about the high cost of such an endeavor. But after conducting some research down in Disneyworld, Murnane and a childhood electrician friend began re-wiring many many many strings of Christmas lights so that they would run on batteries. Then the fun began. They started building floats and costumes, and launched the first Holidazzle in 1992. It grew for a long while, and evolved into a series of themed floats and costumes sponsored by various downtown interests.
[Last stop for the Twinkle Bus. Last stop...]
My personal highlights are the Metrotransit "twinkle bus", the Minnesota Twins snowman that spins around, and the string of individual Christmas lights costumes. (I was told by a longtime parade-goer that they used to have a 'plug' trailing after them...) Also, it's fun to yell "booo!" at the evil witch who almost eats Hansel and Gretel.
The other takeaway from the Holidazzle experience is that it continues to attract a large crowd! There were lots of people cramming into an otherwise empty-after-six downtown, and it was quite fun to see the city packed on a cold winter's night.
[Please, will somebody please volunteer????]
[Twirling snowball gets more hits than Drew Butera.]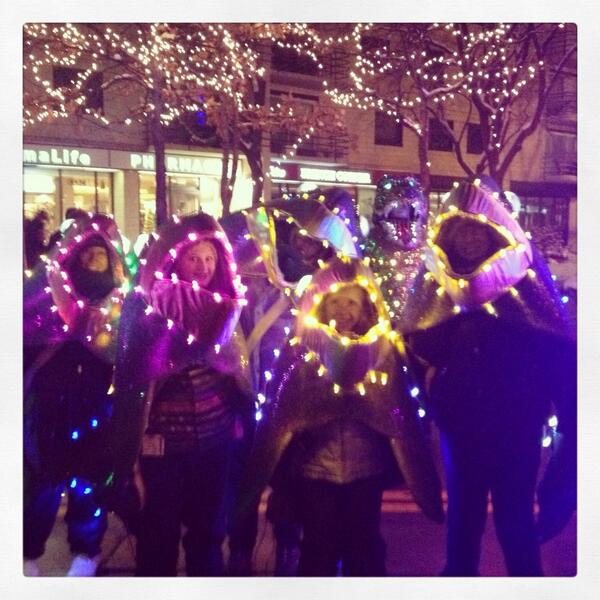 [Dunno what these are but whatever! Lights!]
But the same downtown retail powers-that-be (now Macy's and Target) have decided that the cost of the parade isn't worth it any more. And they're probably right, as I highly doubt that many of the parade-goers stopped to do any Christmas shopping while they schlepped their über-bundled kids to and from their parking lots. The basic problem is that people driving downtown to do retail shopping isn't a model that makes any sense. The vast majority of the downtown retail market is people who already live or work downtown. If we want our downtown retail environment to thrive, we need to double the downtown population, and make sure to keep a dense number of jobs in the CBD. Those projects have little to do with a cheese sparkle parade.
At the same time, it's difficult to think of downtown civic events that have been as much of a consistent attraction as the Holidazzle parade. Kitschy as it might be, it's at least as good as the Aquatennial whatever-it-is. (Barring, of course, the awesome fireworks display.) Back in 2007, the Holidazzle management got changed, and (so I hear) they started cutting back on some of the expenses and maintenance. The old days of downtown department stores are never coming back, no matter how many bedazzled floats we throw at it. Maybe it was always inevitable that the Holidazzle would twinkle and sparkle and fizzle into that good night.
[After all, no snowman is an island.]